Welcome to the Piss Olympics! The PissOlympics is an innocent, anonymous game for women who enjoy filling their bladder to the limit and making long peees or peeing large quantities or making forceful peees (gushing). The PissOlympics was founded by Ellen and is now hosted by myself (Marianne). Ellen placed an ad on the net sometime ago, inviting other women to join in an e-mail pee circle, where they competed on a monthly basis in the same events as the present PissOlympics. And the circle gradually grew as more women joined.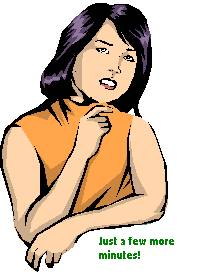 Any woman can join!!
All she has to do is to submit her personal records for those events in which she wants to compete. She submits her results to my address. Her e-mail address will not be published; she will be competing anonymously. She must specify a name under which she wants to compete. Competitors who improve personal records likewise submit their new records to my address, and we will update our lists regularly.
The PissOlympics is solely devoted to the pleasures of a full bladder and the emptying process. Since these pleasures often are solitary activities, the aim of the PissOlympics is to bring kindred spirits together.



One of our former
- Piss Queens -

Rebecca L. E.
An Autobiography
I've always been fascinated with peeing. My bladder has always been large.
As a schoolgirl I never needed to go to the school loo. The other girls in my class knew me as "the girl who never pees". I guess they were a little envious on my large capacity.
For as long as I can remember I've had this principle of never peeing unless my bladder is completely full. I measure my output whenever I can and I always time it, unless I'm peeing together with friends behind a bush. It really thrills me when I hear my friends making remarks about the quantity I'm able to pee. Once I peeed together with a friend...cont