* *
YOU GET A FREE ADULT HUMOUR DOWNLOAD
~ 'NOW THAT'S WHAT I CALL TAKING THE PISS' ~
A FREE ADULT HUMOUR DOWNLOAD WITH YOUR ORDER

COMPLETELY FREE!
---
All Cascade's peeing & panties wetting magazines to download saved in .pdf format and are made to view in Adobe Acrobat 9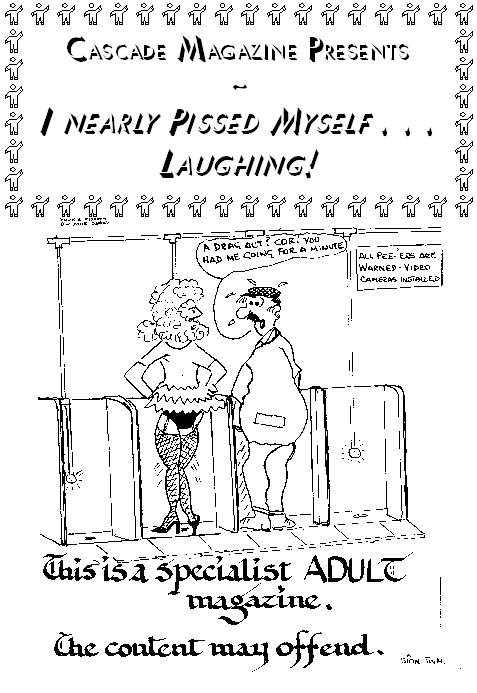 This A5 size mono bladder bursting compilation is full of toilet humour, toilet jokes, peeing cartoons, lavatory humour and wet sex quips. This Adult pee fun magazine could be the ideal way to broach the subject of panties wetting or wet pee sex. Share this funny, watersports peeing ebook with a new female acquaintance or friend? This is a collection of panties wetting and peeing toilet jokes with peeing drawings and peeing situations sketches. This publication is all cartoons of wet pee sex, lavatory humour, toilet limericks and peeing funnies of the kind you could show to almost anyone, it is completely non offensive. This is the only safe way to find out if a person can M-accept your favourite wet fetish - peeing, or watersports. If s/he finds these toilet jokes and peeing cartoons humorous, then you know there is a probability that the person's on the same wet wavelength and so you're going to be laughing too! If he/she finds it boring or un-titillating, you'll know where you stand re: the opinion on peeing and whether it's of an interest to whoever it is you're showing it to. We don't know any other safer way of broaching this watersports peeing fetish to another person, or approach the wet sex subject other than this, you are completely safe and you come out of it with your ego, credibility and respect completely intact!
Download to your PC or Smartphone @ £1.50
(Or Your Currency Equivalent)



CAUTION!! DO NOT BUY THIS MAGAZINE IF YOU'RE EASILY OFFENDED!
---