* *
Home Menu P Sounds Ms JD Pissing Retro Mags

Victoria Super Pisser

Buy Victoria's Panties
Pee Sightings: I could hear the lady's pee stream splattering loudly
Dear Readers,
I felt up to going out both nights last weekend, unfortunately no pee sightings to show for it. But I write today anyway, getting myself in the mood for sightings of women peeing by sharing more of the stories that run through my mind - today they include a picture so this is my first web page report of 2008. I start March with just 2 pee sightings and no pictures, same as last year's 2 sightings of women peeing on this date but I snapped pictures of both of those pee sightings last year.
It was cold Friday night (mid 30's) and unseasonably warm Saturday night (low 50's). I wanted to test the waters for a full weekend and went out late both nights, my first 2-night weekend of sightings of women peeing work since mid-November because of cold and erratic winter weather. The best I could do was a lady coming out of a bar with a friend who said, "I might have to pee in the street!" as they passed me, but they quickly got lost in the big crowds as they walked onto the now-busy block in the south (slow) part of the area. Crowds were small throughout the middle to busy (north) part of the pee sightings area but again very crowded on this 2-block area where I got my February sighting. There are almost as many people in this part of the area as there once was in my beginning pee sightings years of the early '90's, something I didn't think I'd see again after all the crowds migrated north to the then-new busy area in the mid '90's. So I spent most of my time there again, leaving earlier when I saw crowds scattering quickly after leaving bars with no ladies showing any signs of needing to pee.
I was thinking about my sightings of women peeing history in this area, particularly the parking lot block where I got the February sighting 2 weekends ago because that was the centrepiece of my sightings of women peeing work in the early '90's. I looked up my pee sightings and pictures on that and the blocks north and south of it since they were very productive then, the north block had a parking lot that has long since been developed into the bars that are drawing big crowds now. How dominant was this part of the area? It has 141 sightings of women peeing and 26 pictures since '93, producing an amazing 50 sightings of women peeing and 10 pictures in '93 after I snapped my first pee sightings picture in this same parking lot in August '92. The area dropped to 40 pee sightings and 6 pictures the next year, declining to no pee sightings at all there by '97 when most of the crowds had moved 6 blocks north to the newly-built busy area and it's new bars. I've had just 29 sightings of women peeing and 7 pictures there in the 10 years since then, 11 sightings of women peeing and 3 pictures being it's best year in 2001 and 3 years I got no pee sightings at all there. The only real activity in the area had been Oktoberfest in 2 mid-September weekends until last year, when that moved out of the area too and led to no sightings of women peeing in that area again last year. I'm happy to see big crowds there again, but it's different now: cops are all over the place and close off the busy street through the area at closing time like they do in the busy area, and because of that I'm limited to just watching the pee sightings I do get because snapping pictures there is just too risky now.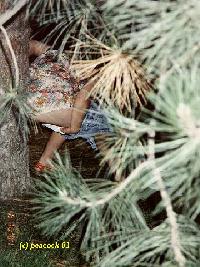 The busy parking lot there had a couple of trees on the grass outside the middle of the lot that by far drew the most peeing, this lady being one I caught there in June '94 (desp 36a in album 6). But pee sightings like this aren't likely to happen now, as part of new preventative security measures all trees in the lot have had their low branches cut off - the low branches now are above the head of where this squatted lady was peeing so today she'd be completely visible. Guys are still standing by the trees peeing but ladies aren't trying it anymore (so far), they're squatting to piss by cars in the parking lot where they're mostly hidden - easier to see from outside the lot now with the low tree branches trimmed. That June night of this picture, I was the only one who saw this lady run under this tree! It was an awkward piss, she was so desperate I could hear her pee stream splattering loudly in the dirt under the tree. Saw her pee stream clearly in the light when the camera flash fired, but it didn't come out in the picture. Sometimes I get pee streams in the pictures and sometimes not, there seems to be a lot of luck associated with that. But I do believe digital cameras will do a better job of bringing out details like pee streams, these memory cards seem to do a better job of brining out finer details in dark pictures.

Doesn't memories like this get you ready for some sightings of women peeing?