Home Shop Menu P Stories P Sounds

Ms JD Pissing Retro Mags

Victoria Super Pisser
Retro Panties Wetting Magazine '91.
Panties Wetting Magazine Retro Cascade '91. Womens' Letters!

YOU GET ALL THESE MAGS & MORE IN BARGAIN BASEMENT No. 1
---
All Cascade's peeing & panties wetting magazines to download are £3.00 and saved in .pdf format and are made to view in Adobe Acrobat 9

Download Retro Cascade Magazines with PayPal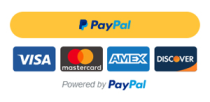 ---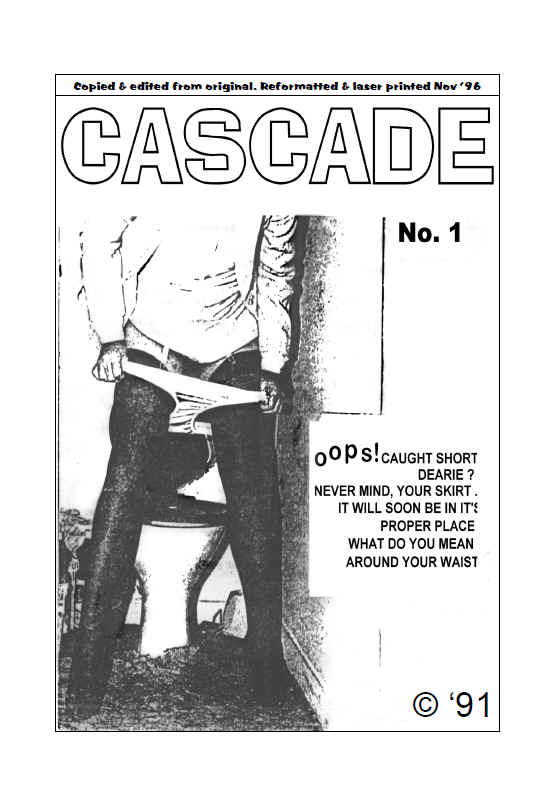 1991 March Magazine (28 Pages)
Download to your PC or Smartphone @ £3.00
(Or Your Currency Equivalent)
A study of public toilets from Which? magazine
The very first Cascade Knicker Wetting Magazine!
. . . a difficult time legally for testing the water and at that time in the early 90s, the editing & compilation wasn't done by S & D at the beginning. The first Cascade was stuck on to A4 paper and photocopied to make an A5 booklet - a bit crude but we had to start somewhere! The Cascade Knicker Wetting Magazine was brought about by demand by the callers on our UK watersports phone lines in the late 80s. The original pages have been carefully typed & re-formatted from the old photo copied original Cascades and are now far better looking and better still, legible! A preface from the editor at the time sets out our honest intentions & format. As we had no reader's contributions to start Cascade off with, the peeing stories and articles are from rare & hard to find stuff. Story called, 'The Train Strain' - Louise is on a non-corridor train from Clapham to Portsmouth with 2 pints of shandy inside her. A letter from a couple who spice up their sex life with panties wetting. A study of public toilets from Which? magazine. The history of the 'Loo' from AD45 to present day. A letter headed 'Wet Memories' where a guy gives us flow by flow accounts of his voyeur recollections right back to what started it all off - his school days. A story about Mandy who has a small bladder but has to stretch it one day with very wet consequences. A public appeal for wee wee from a textile factory to process wool. A few 'Magma' video reviews - 1) Sex Bizarre & Extreme 2) Aerobic Sex 3) Cafe Bizarre. Some pissy poetry and wet sex humour. Wee Katy & Desperate Diane panties wetting cartoons.

---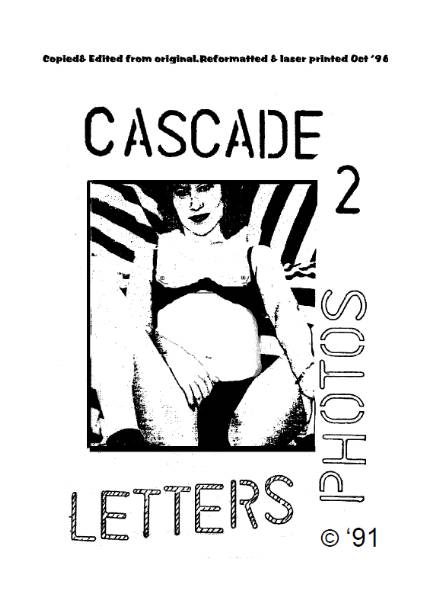 1991 June Magazine (40 Pages)
Download to your PC or Smartphone @ £3.00
(Or Your Currency Equivalent)
The second Cascade Panties Wetting magazine - issue No 2 (of 50!)
The second Cascade magazine - issue No 2 (of 50!) with more pages and loads of reader's encouragement and contributions. Panties wetting Pts 1 & 2 about a girl who loves the thrill of wetting herself in public but so scared she'll get caught. Wee Katy & Desperate Diane cartoons. A woman's description of women's toilets, why she avoids them and why some women go in twos. A story about a fella picking a girl up in a bar, Claire - who turns out to be a pee freak. A piss take of The Wine Club with Jilly Goolden (showers). A reader's letter in praise of Cascade & telling us of his schoolboy attraction to a girl he saw peeing and later in life with other pissy female partners. Some wet cartoon funnies. A girl called Hilary gets caught short in Brixham in Devon, New Year's Eve in London, at Blackpool's Illuminations and Croxley Hall, Watford - good panties wetting accounts of each. A contribution from a male subscriber that was inspired by Louise's peeing letter in issue No1. A re-production of a peeing letter from Forum about a couple who go out peeing in public together. Some Urolagnia ideas from the Editor. Story about Suzy & Ann who are lovers and share some intimate female peeing moments. A short letter from a subscriber who tells us of his wife's sister's peeing accident. Reproduction of a letter from the early 80s about a married woman who loves going out looking for desperate female pee sightings - some good detailed descriptions of desperate situations.

---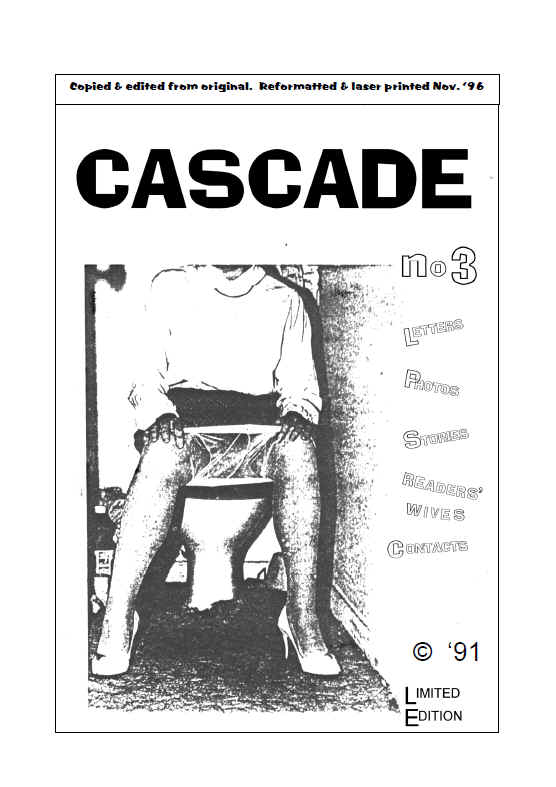 1991 Sept. Magazine (36 Pages)
Download to your PC or Smartphone @ £3.00
(Or Your Currency Equivalent)
A letter from a guy who likes to drink his wife's piss
Cascade Issue No 3 - and the start of a Cascade Contacts section. A subscriber recalls when aged 9 he used to fantasise about being dominated and being given a watersports peeing punishment by the women in his fantasy. Desperate Diane cartoons. Favourite peeing positions for women. A female's confession about being bursting to pee in a traffic jam and it's tragic conclusion. Lots of happy reader's comments & valued feedback on Cascade knicker wetting magazine so far and an appeal for where can he get watersports videos ....?? A couple explain why the tiled floors in Spain's hotels are a distinct advantage! Penny the check-out girl needs a pee desperately at work and a male customer gets turned on by her plight. A subscriber makes us aware of 'Sex Bizarre' the glossy peeing magazine from Copenhagen @ £30! Women peeing types, humorous descriptions. A magazine cutting called 'A Matter of Inconvenience' about shyness amongst women when it's time for a pee. A letter from a guy who likes to drink his wife's piss. A couple on a walking holiday get taken short to the male's advantage! A schooldays recollection by a subscriber about a girl getting the slipper in class and letting her piss go with the shock. Some entertaining pissy poetry.

---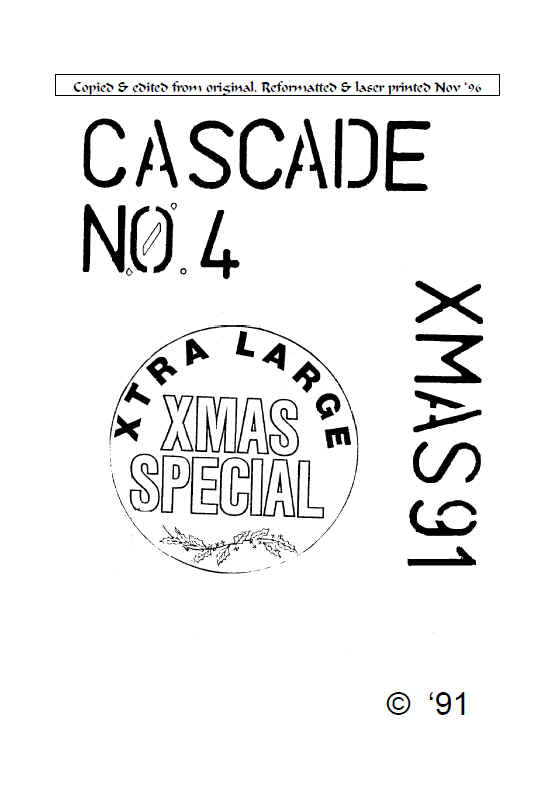 1991 Dec. Magazine (40 Pages)
Download to your PC or Smartphone @ £3.00
(Or Your Currency Equivalent)
Some facts & figures on bladder retention
The end of Cascade's first year with issue No 4. 'The Railway Accident' - a true woman peeing story related to the subscriber first hand. An interesting letter from a woman who, as from a child had trained her bladder to hold on. A couple have a pissy picnic by the river. A Maximum Perversion watersports video, the revue of 'Sex Superlative'. Roxanne, a man's wet dream come true! A subscriber recollects some good pee sightings of women peeing from his past. Some video rip-off merchants. Some extracts and women peeing letters from old 70s & 80s peeing magazines by Verve Publications: ASTRA, CAPRICE, EXTRA, CAPRICE PLUS and EXPOSED. A female Cascade subscriber tells us of a naughty deliberate pee session in the cinema. Some more facts & figures on bladder retention. Hilary writes in with some cameos of female urinating styles. A happy wife tells us about how she adores peeing on her man, especially when he's down on her! A subscriber's pee fantasy about Cascade's Deb coming round with his magazines! A watersports video revue from Viola Films called 'Domina Service' - conclusion: "a highly recommended multi kinky video".

---
Go to '91 Go to '92 Go to '93

Go to '95 Go to '96 Go to '97

Go to '99 Go to '00 Go to '01

For viewing in Acrobat Reader

Click here for MORE DOWNLOADS ON SPECIAL OFFER

---
Counter