Pee Sightings!
Free Pee Voyeur Stories of Ladies Desperate to Piss.
This page is no longer

updated regularly, but there's all the available reports, stories and piss puddle pictures exactly as they were reported. Pee Clips, the sightings reports & the ladies piss puddle pictures.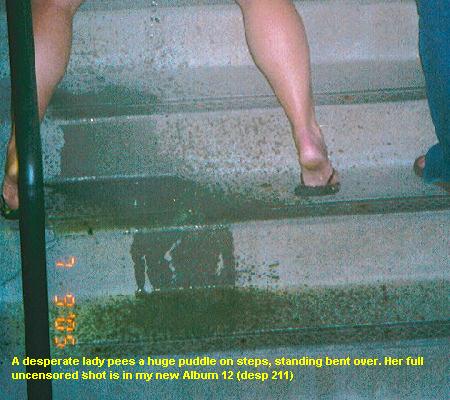 The last pee sightings report is indicated by


at the bottom of this page.
Year 2007
The 2007 Pee Sightings Summary - the year's decline, the coming year's forecast, the best wet bits of 2007.

Year 2008
New Years' Eve 2007/08 - small crowds produce only one sighting!
Last Saturday in January - a near sighting prevented by a 'do gooder' girl friend - full story
Mid February Saturday - lots of activity, a sexy pee sighting and a surprise ladies confession!
Slow March Start - no sightings but a good memory and picture from '94
Getting Better! - a desperate to pee sighting and her piss puddle shot - plus 35mm Vs Digital for peeing pictures?
March Ends - 2 sexy sightings and article on Women's Bathroom Etiquette
Good Start to April - 3 really good sexy sightings and a feel-good factor
Lady Takes an Intense Piss - her piss puddle shot & full story. Plus a new camera with better night-time shot taking qualities!
One Sighting - full story & what we can expect for May
Lots of Good Sightings! - Tall slim dark haired lady takes a quality piss by a wall - piss puddle shot plus loads of other ladies pee sightings
Mid May Blooms - with 2 good sightings, a fat lady's big piss puddle & the June Preview
May Bows Out - with 5 sightings and a Movie Scene alert
Exciting Start To April - with 3 sightings - 1 being a huge emergency public piss!
Trying Out the Video! - 3 sightings and some video pee scene experiments
June Sightings - 3 summer pee sightings - including a copper!!
June Ends - with 2 sightings, a woman peeing picture and a bit of wet tele
July starts - slowly with just one sighting, plus proportions of women peeing dressed in jeans Vs dresses
Mid July - a warm summer, big crowds, but only 2 sightings
July Ends - with 2 sightings, an interesting 'P' news story and the August preview
August Starts - with 2 sightings and the answers to some Ladies Pee Survey questions
August Sightings - 2 this week with an interesting gal/guy peeing situation
More From August - 2 good sightings, a piss river picture & some 'P' TV
August Ends - with 9 sightings!
First Weekend - In September - brings us more sexy pee sightings and an un-expected encounter!!
Sexy Sighting and Piss Puddle Shot! - Blonde lady takes an urgent public piss
Two Women Piss an Absolute Flood! - Plus loads of Ocktoberfest women pissing sightings!
End of September - 4 sightings and the October preview
Slow Start to October - the first weekend produces 4 sightings
A Mid October Sighting - where a security guard catches a woman pissing in mid flow!
Halloween Weekend - brings a sexy sighting and a lady demonstrates an outside peeing technique
End November - some pee stories & Judge Judy 'P' TV
December & NYE Non-Productive


Year 2009
A girl's not allowed to pee - first sightings report of 2009
2 more night pee sightings - warmer than average Feb brings out the crowds
March preview - and a couple of ladies comments from the Pee survey
First March Sightings - a pretty piss girl braves the weather in her summer dress
3 good sightings! - with puddle pictures and stories
April gets going - 3 sightings with interesting facts & figures
Exciting April finish - good stories and puddle shot analysis
Good start to May - puddle pic and a web site announcement
The weather's warming - and the girls are coming out to pee!
Nice end to May - 4 interesting sightings & June preview
4 classic sightings - and the weather's warming up for sexily dressed ladies
June Climax - 4 great sightings & some interesting info
Warm mid July - 4 sexy summer sightings
July tails off - only 2 sightings - the reasons why?
August begins - with 4 sightings & a wet dress shot
Mid August lull - slack sightings but still, there's an interesting video
August fails expectations - just one lone sighting!
September Preview - what can we expect for the rest of the year?
September off to a good start - sightings and a piss puddle picture
September improving - couple of sightings and an ugly girl's sexy piss puddle
Oktoberfest 1 - brings a bit of sexy pee life to my ladypee reports
Nice September! - 6 sightings - a full report
Oktoberfest 2 - just one sighting and conclusive report being it's the last one.
Mid October - brings 4 good sightings and a descriptive look at some of the hundreds of pictures
Halloween Weekend - 3 sightings and wet skirt pictures
Mid November - no sightings but a pee-assurance report
End of November - the 100th sighting & a super piss puddle (river) shot
December preview - what can we expect for the last month? Is it worth going out?
New Year's Eve ?? - the preview, it's expectations and last year's sightings figures
New Year's Eve 2010 - small crowds and only one lone sighting!!
2009 Sightings Summary - the complete year's facts & figures & the prospect for 2010???


Year 2010
The Pee Sightings Areas - the last 17 years, the best spots and how time changes women's peeing habits


Year 2011
April ends with a treat! - a desperate lady takes an emergency piss in the street!
May looks promising - getting back into it with a bonus of a fun (almost) pee sighting!
May still good - 3 pee sightings and another funny pee incident
June's First Weekend - kicks off with 4 more sightings
3 sightings & a double piss puddle shot - interesting comparison of how ladies pee outside
Just one pee sighting - but an idea for Sunday Concert Sightings!
Interesting Pee Weekend - good pee sightings report with 2 ladies' piss puddle pictures
2 Sightings Sat & Sun - looking good for next weekend!
10 Sexy Sightings! - pee areas now free of cop patrols - now the desperate ladies can pee!!
5 ladies pee sightings - warm nights and cop-less areas produce good sightings opportunities
2 new reports this week:
Mid July Report: just three sightings but looking good for next week
End July Report: July ends with the best sightings for over a decade!
August starts well - with 6 sightings of women peeing!
3 mid August sightings - including an peeing exhibitionist who gets an audience on the sidewalk!
Strange Weekend - but still got 4 sightings despite the distractions ...
August Ends - with 8 sightings and a would-be slam dunk shot!
September Starts - with 3 sightings, another really wanted shot and a desperatewomen.com website up-date
Oktoberfest 1 - the first week brings 13 pee sightings, plus an experiment with the video camera
Oktoberfest 2 - 4 late pee sightings - including the much wanted 100th!!
Slowing Down - but 4 more sightings with an interesting boy-girl scenario
6 Sightings of Women Peeing - and the term used by girls needing to pee
Halloween Night - WOW! 11 sexy sightings - an 'intruder' and a pee drama
Year 1212
New Year's Eve 11/12 - only two sightings! But an enthusiastic start to a brand new year of pee reports!
The 2011 Pee Sightings Summary - a complete report of the sightings of women pissing. When what where how and more!
St. Patrick's Night - a night full of fabulous ladies sexy pee sightings
First Weekend in June - 5 sightings, a close-up public sighting and a pair of pee soaked panties!!
End of August - a disappointing end and a passed picture opportunity
Great Start to September - some good sightings and an excellent piss puddle shot
Oktoberfest - 10 sightings including one BEAUTY!


A New September Record!! - 11 sightings of sexy women pissing in just one night!!
Here are the X-Streams Public Pissing Movies & DVDs!!


This late night public pissing watersports voyeur goes out with his piss cam every weekend to get pictures and find desperate ladies who need to pee in public badly. Desperation is what makes women go down a dark alley and empty their full bladders in public. They pee like mad in the dark, hoping they won't get caught. If you are reading this you will be a pee fetish or watersports pissing lover and perhaps, if you had the nerve, you wish that you could be this voyeur taking all those peeing pictures! The trick is not to get caught, sure you enjoy the peeing fetish, but only perhaps to get the stories and leave the videos and pictures to someone else!
Please enjoy our pages, come back for more pee reports every week.
This is the Main Menu for the free Public Pissing Stories from the former website desperate women.com

Click here for anonymous viewing of fetish sex!!
All of the Sightings year 2000 is now in a .zip file HERE
All of the Sightings year 2001 is now in a .zip file HERE
All of the Sightings year 2002 is now in a .zip file HERE
All of the Sightings year 2003 is now in a .zip file HERE
All of the Sightings year 2004 is now in a .zip file HERE
All of the Sightings year 2005 is now in a .zip file HERE
All of the Sightings year 2006 is now in a .zip file HERE