Home Menu P Sounds Ms JD Pissing Retro Mags Victoria Super Pisser

Buy Victoria's Panties
Picture of a Lady Having a Peeing Accident!
Dear Readers,
A mild weekend with 4 sightings but it gets me to 93 for the year. 17 sightings for August, so I should do better than the 18 I got last year in August with another weekend left in the month. I had 91 sightings on this date last year, got to 100 on August's final weekend with 9 sightings that last weekend. I snapped my 5th shot of last year on that weekend, this year I'll need 7 sightings next weekend to reach 100 and am 9 shots ahead of last year. I had shot opportunities both nights this weekend but passed on both because guys were with the ladies, the calm was good after last weekend's drama.
This is a web page report this week because I have my Album 13 preview today, the sample album shot just posted at my website for this new album I've also included here. It will follow this week's sightings stories, her story was memorable and now you get to see her! A pretty good crowd in the sightings area last weekend, just not much bladder energy among the ladies. It was cooler for a change, jacket weather both nights with temps in the upper 60's Friday and upper 50's Saturday, rain forecast both nights but it came earlier and it was dry during my sightings work. Signs are already up in the Oktoberfest area promoting it, the dates are the weekends of September 8th and 15th this year - getting earlier every year. 2 sightings each night, 3 of the 4 coming late.
On to the stories:
Saturday, 1:13 a.m. - Over in the slow part of the area (the Oktoberfest area) I was watching the crowd in an alley by an alley bar that opened earlier this year that draws a nice crowd every weekend. It's the 3rd building from the corner on that end of the block where I was, I've seen guys peeing around the nearby buildings and have heard ladies going there say they had to pee but there are so many people in the alley around there the female sightings should be rare. A couple were on the sidewalk outside the alley by me, I noticed a guy standing beside the dumpster behind the 2nd building next to the bar, facing the alley. He was looking around, indicating someone must be peeing behind him that he's guarding - a lady, because guys don't stand guard for guys. I could see some movement in the darkness behind him, looking closely it was a lady taking a long, hard piss! I could hear her splattering pee, it was about another 25 seconds before it stopped and she stood up behind him and pulled up her shorts, they came walking out to the waiting couple by me. She was fairly tall (about 5' 8") and slim, short spiked black hair and chocolate skin as the group was of middle-eastern descent once I heard their accents when they were talking. She was wearing a white shirt and army camouflage-print short shorts and black clunky wedge sandals. The group walked off, not only was it too dark where she peed to look for her puddle but lots of people were nearby so I didn't look for what would have probably been a nice big puddle. I probably should watch this area more, as there were also puddles and streams coming from between cars parked in the alley across the street!
2:23 a.m. - At the RTD station earlier I saw a petite early 20's Hispanic lady, cute wearing a pink denim miniskirt, at her car parked on the street at the RTD station block across the street from the bars. She and another lady were sitting on the ledge of the park area bordering the sidewalk, her boyfriend with her wanted to go to the bars and she apparently didn't and just sat there waiting for him. After walking through the different parts of the area every time I passed the RTD block she was still there, so I figured she'd have to pee before she left and I'd get a sighting. Finally her boyfriend came back and they were standing by the car arguing. He told her to get in the car and she said no, she had to pee. She turned and started walking across the grassy area towards the administration building, unfortunately he followed. She went down the steps to the employee parking lot at the north end with him right behind her, I walked over to the wall above there thinking she'd be peeing right below me in the corner area there leading to the parking lot, where I've snapped a few shots. Looking over the wall I was right, she was directly below me. I could see her skirt bunched up around her hips, her feet spread wide as a big puddle was already underneath her. She was looking down at her work and I could hear splattering, another hard intense piss! The boyfriend was standing guard right in front of her, his back was to me. The urge was there to pull out the camera and snap this shot as I liked this scene, but I told myself not to unless she was peeing by herself as I don't need any more drama like last week (explained on next page). I moved back away from the wall as she finished and started standing up, a few seconds later the 2 came back up the steps and walked across the grass back to their car arguing again. She left a big puddle, her left sandal footprint next to it after she left because that foot was in her puddle while she peed.
Sunday, 2:36 a.m. - I was on the corner of the block north of the RTD station when a group of 5 (3 guys, 2 ladies) were coming from the other end of the block towards me, coming from the busy area. I saw this group earlier, they were all early 20's with both ladies petite and slim; lady 1 had long blonde hair wearing jeans and lady 2 shoulder length black hair wearing black baggy knee length shorts. The other end of the block where they were was a parking garage, next to it a patio area by the bank building which was on the corner where I was. As they passed the parking garage driveway the group stopped, the lady in black bending forward at the waist and crossing her thighs. One of the guys pointed back to the office building patio, an area bordered by a short wall with flowers on the top of it facing the sidewalk. The 2 ladies started walking back there, going behind the garden wall by the building window some 40 feet from the sidewalk. From the corner I watched the 2 ladies go to opposite ends of the garden area (about 12 feet apart) and push their pants down and squat, their heads going down below the top of the wall. The guys were waiting out on the sidewalk by the parking garage, an easy shot for me if I wanted it - and I would have gone for it if the guys weren't there. They finished quick, coming out after about 10 seconds with the blonde saying, "Okay guys, we're finished!" as they walked out to them. The group walked off, passing me with the lady in black laughing and seeming embarrassed about peeing in front of a building. I went over to the garden to find their 2 fresh puddles on the pinkish-tiled ground along with 2 other puddles made earlier, theirs distinguished by being darker (wetter) with fresh streams running from the average-sized puddles.

This was a very frustrating night, nothing but men peeing with the few ladies who had to pee going into bars or getting in cars and leaving. As usual I didn't get my sightings until just before leaving for home, fortunately I got another 2 ladies peeing for the effort of 1. Continue Reading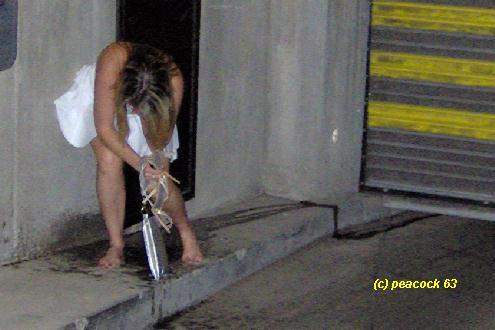 Album 13 preview:
It's now ready, this is the full-size shot from it that is in my website sample album - desp 224 This is the lady from June who passed me on the RTD block, that I followed to the parking garage driveway on the next block where her bladder exploded. After thinking about this lady's actions that night and studying this shot, I'm now concluding she had a peeing accident! She felt her bladder starting to bust and that's when she ran into this driveway, her pee started coming out in an uncontrollable torrent almost immediately - happening so quickly she didn't have time to pull down her panties and squat and just stood there helplessly peeing in this position. Her hands were occupied with holding her shoes and purse and covering her face when she saw me and the camera, I did a close-up enlargement of her sexy spaghetti-strap white see-through dress by her right arm and hip area to see if her panties were visible there since they weren't pulled down and bunched up anywhere on her thighs. It's a darker white around her hips and crotch area where her panties would be, looks like they are there in their normal place - which means she didn't pull them down and was peeing through them in this shot, making this a peeing accident! She probably thought she could hold it, was forcing herself to hold it past the bursting point because she didn't want to pee outside - probably doesn't know how to, like a lot of ladies! This is my 2nd accident shot, the other lady (desp 139) I snapped after she finished and was walking away in her pee-soaked pants - but I got this lady while she was still peeing. What a sexy summer this has been, reflected by the sexy pee shots of the ladies in this album - including the pretty squatted blonde in the black skirt and high heels from last weekend! You can get a listing of all the shots in this album at my website , you should remember them because you got all their stories after they happened!
Counter