Home Menu P Sounds Ms JD Pissing Retro Mags Victoria Super Pisser
Blonde lady doing an open legged piss in public!
Dear Readers,
a good start to September with 4 sightings in it's first weekend. 67 sightings for the year, ahead of the 61 I had on this date last year, but the 2 nd weekend last year is when September took off on it's way to 22 sightings for the month so I'll need a similar spurt starting next weekend. A web page report today with 2 pictures, I was thinking just this weekend about how I haven't seen any really eye-popping sightings that make a year special and suddenly I get one: a really outrageous and sexy final sighting of the weekend as my 'sightings destiny' continues to be there as fate delivers me just the kind of sightings I need when I need them to keep my interest strong!
Fall weather suddenly hit on Friday, dropping temps from the 80's to the 50's. As expected this brought out a very small Friday night crowd as it usually does when the weather first turns colder, I almost didn't go out but decided to at the last minute and it was worthwhile as I got 2 sightings. It was warmer Saturday night and the crowd was much bigger, as it so often happens I had to work harder to get the sightings in the more favourable conditions and finally got lucky twice during the late hour before I left. Lady-counts: Friday night's 2 ladies who peed were 6.3 tenths of 1 percent of the crowd, Saturday night's 2 ladies were just 4.1 tenths of that bigger crowd. For the weekend the peeing ladies were 5 tenths of 1 percent of the late hour ladies. Stories follow, both shots are in the weekend's final story:
Saturday, 2:00 a.m.- Among the crowds leaving bars across the street from the south end of the RTD block, 2 ladies and a guy turned into the corner parking lot and stopped by the row of cars parked by the building and continued talking. All were early 20's, the ladies with long brownish hair wearing jeans - lady 1 average height and lady 2 petite. Suddenly the ladies took off running, along the back of the row of cars back towards the alley - I knew why! I crossed the street from the RTD block and went into the parking lot, walking back to the alley and then out to the sidewalk outside the lot. It was about 30 seconds before I saw the ladies come out from behind the 1st building next to the parking lot, both laughing as lady 1 was zipping up the front of her jeans. Another guy was nearby so I didn't go back there to look for puddles, looked like they went into the back doorway of that 1st building where I've seen many ladies go before. It continues to amaze me how these ladies leave bars needing to pee and knowing they will have to do it outside if they don't use the bathroom in the bar, but they leave and still pee outside somewhere!
Saturday night shortly before the sightings I saw an interesting almost-sighting. A mid-20's couple had gone up on the patio area of the RTD block, headed towards the grassy areas and pee sidewalk. As usual at this time the sprinklers were on watering the grass so the couple couldn't pee there or get through to the pee sidewalk, they stood there for a moment wondering what to do. I knew they had gone there because somebody had to pee so I waited them out, after a few minutes they went over to the terminal building where the guy started peeing right there by the windows on the building with the lady standing right beside him. She was petite with long blonde hair wearing a black flared miniskirt, after watching him peeing for about 10 seconds she kinda bent over like she was trying to figure out how to pee with him discreetly. I was near the other end of the patio area and she was on his far side so he was blocking a clear view of her for me, I tried to walk closer but they saw me so I had to stay where I was or they'd stop. She never squatted all the way down but from a distance looked like she was doing something, she finally straightened back up about 5 seconds before he finished. And right after he finished the Security Guard comes out of the terminal building and walks over to them, speaks to them for a moment and the couple quickly walked off - from inside the building you can see someone who pees right by those windows and he probably saw them! I went over there after the Security Guard left to find a huge puddle that looked like 2 people peed, was she peeing standing next to him while he peed? The evidence I look for in ladies wearing skirts who don't squat is if they reach under the skirt at some point and pull down panties, I never saw her reach under her skirt - or pull anything back up under her skirt before she straightened back up - so it didn't appear that she peed. But the size of that puddle had me wondering, shortly my instincts about women in skirts and panty management if they're going to pee would be tested again.
Sunday, 2:24 a.m.- Walking over to the big active parking lot a mid 20's couple was standing outside the alley behind the lot, waiting for a cab it looked like. They turned and went back into the alley, stopping by a dumpster behind a building before turning and coming back out - somebody was thinking about peeing but changed their mind? Then I saw a motorcycle cop sitting in the lot, close enough to the alley where he could see anybody going there to pee. The couple crossed the street and walked past me into the alley on this block, behind a big parking garage there. They went 2/3 of the way down the alley before turning up to an area of dumpsters and a back door entrance to the 1 st level of the garage. It quickly became apparent the lady was peeing because the guy kept peeking out into the alley every 20 to 30 seconds to see if anyone was coming, about 2 minutes later the couple came back out into the alley and started walking back towards the end where I was. I went around the block and into the alley to where they'd been, found 2 puddles: his by the base of the wall by where he'd been peeking out into the alley, her average sized puddle between 2 dumpsters next to there with a thick stream slowly starting to flow from it towards the middle of the alley.
2:47 a.m.- Finally, an outrageous and sexy sighting! On my way back to my car I had taken a different route, walking past some high-rise office buildings. 2 ladies were crossing the street at the next corner I was about to pass, a petite thin lady wearing pants and the other in a navy miniskirt and jacket walking barefoot. When they got across the street they started running, I had now gotten to that corner and turned to walk down the same street. Lady 2 suddenly hiked up the back of her skirt and stopped walking, pulled her black panties down to mid-thigh and completely off, stepping out of them one leg at a time and pulled the back of her skirt down over her butt. She balled up her panties and stuffed them into a side pocket of her jacket, this was not a hot summer night (temps only in the mid 50's) so why did she do this? Because she was going to pee and very soon and yes! she proved me right by running up on a sloped vent just off the sidewalk hiking up her skirt and turned to face the street before sitting down on the vent (a hill) and spread her legs wide so I could see her hairy blonde bush even from across the street in the faint light reflecting off her from nearby light poles. Her thick golden stream started flowing straight down between the grates of the vent almost immediately, I heard the splattering of her pee against the metal grates of the vent and saw her stream running down from her hairy bush into the vent - a shot I wanted badly as I was already pulling out the camera. The other lady stood next to her watching her pee and didn't block my view of her because she never noticed me, but the peeing blonde was facing the street and staring at me to make sure I didn't try to come over there. Her splattering continued for just about 10 seconds before it suddenly stopped and she quickly stood up and pulled her skirt down and stepped past her puddle on the vent and back out on the sidewalk. The 2 ladies quickly ran off, she never put her panties back on.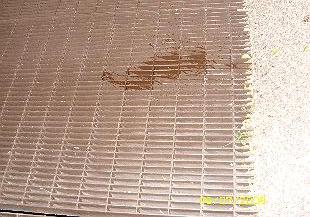 I went over and snapped this shot of the wet vent where she peed, having to stand off to the side of it because standing directly in front of it on the sidewalk you can't see the extent of her pee on the wider sides of the metal vent bars. This was a rude and disgusting thing for her to do, this lady's pee goes right into the ventilation fan and filter so a piss odour will be circulating through the building until the filter is replaced and fan cleaned! How could an attractive lady do something this disgusting, this is more the kind of thing a man would do! Is it sexy to see a pretty lady do something this disgusting to relieve herself, or just as bad as if a man did it?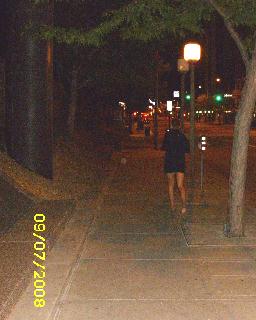 And here she is! As I walked off she was coming back, this time by herself and still barefoot running down the sidewalk towards me. I snapped this shot of her just after she ran past me, she ran to the corner of the next block and disappeared. At the lower left of this shot, by the date, is a vent exactly like the one she peed on in the same proximity to the sidewalk so you can see how out-in-the open her outdoor toilet of choice was: her peed-on vent is just a few feet ahead of her by a tree she's about to run past (along the left side of the picture). Had she put her panties back on by now, or was she still naked under that skirt airing her crotch out? And where were her shoes? Do you find this lady and her behaviour sexy, or nasty? Best sighting of the year, a desperate piss in an openly visible spot that I got to watch from start to finish. Just wish it had lasted a little longer, I probably would have been able to get there and snap her shot!
Counter