Retro Cascade Panties Wetting Peeing Magazine.
Back Issues from 2000
Cascade 90s Watersports Pissing & Panties Wetting Magazine . . .
---
All Cascade's magazines to download to your PC are £3.00 and saved in .pdf format and are made to view in Adobe Acrobat 9

---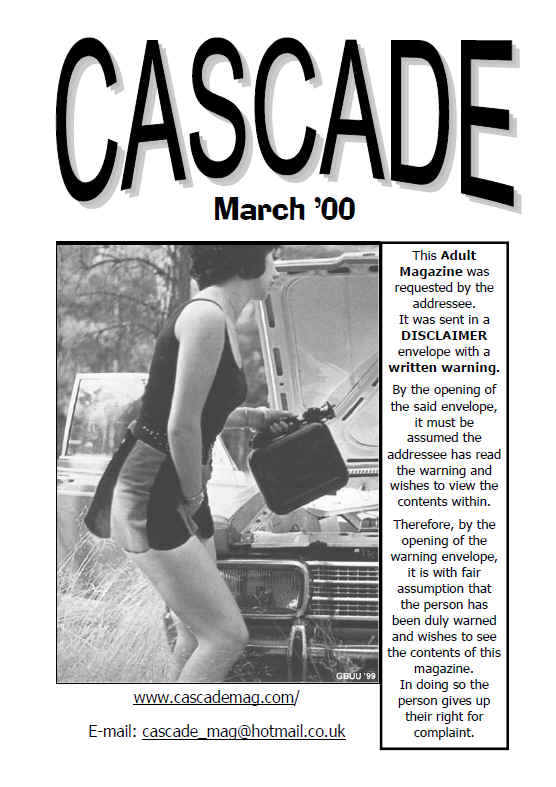 2000 March Magazine (42 Pages) @ £3-00 (Or Your Currency Equivalent)
Download Cascade March 2000 ~ Buy & Download to your PC @ £3.00 (Or Your Currency Equivalent)


Up date on the conclusion of the Cascade Court Case. Article, a desperate public pissing report on the Third World Debt protest march. Old guy has memories of being a pissing milkman. An article in praise of Wet Set Videos. Sexy pissing article from Brian & Bridget. A watersports websites and videos review. The 'Early Pissing Experiences' Questionnaire. More from Brian & Bridget with a humorous take on the positions models adopt in clothing catalogues and how they could be related to needing a pee! A couples' painful pissing competition. In praise of Alli, the Wet Sex Escort and what happened!! A subscriber's detailed recollections of his pissy past. A couple of girlie feedbacks on bladders and penis envy from the Watersports for Women website. A detailed idea for a yearly Piss Gathering - called the 'Boston Pee Party'! Article written by a woman on Ladies' toilets and the piss standing Lady P.
A subscriber's school days dying to pee recollections. Some Wet Tele including a detailed recollection of the pee holding competition: Niagra Falls endured by a girl on the TV show called 'The Priory'. Humorous adventures of Mrs Woods, the lady who's lavatory shy. Some exciting pee sightings in Sunny Tenerife & Soggy Surrey. White Van Man (Ladies mobile toilet) and an interesting report on a simultaneous attack of incontinence between a bunch of office workers in the Philippines, which leaves doctors baffled. Nice picture of an office girl peeing her panties. There are other peeing stories and letters and events of the knicker wetting world including other peeing pictures and drawings.
---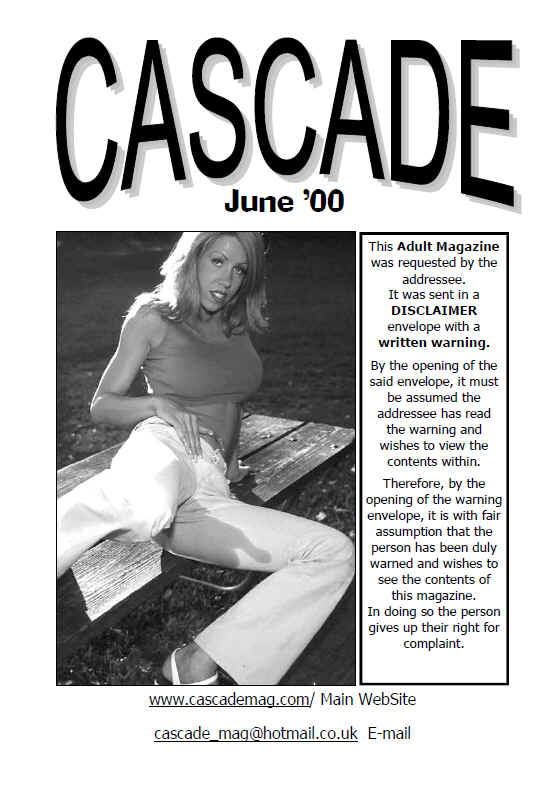 2000 June Magazine (42 Pages) @£3-00 (Or Your Currency Equivalent)
Download Cascade June 2000 ~ Buy & Download to your PC @ £3.00 (Or Your Currency Equivalent)
A girl explains about the drinking game called The 100 Club. A subscriber's contribution on Wet Tele and a TV series called 'Motorway Life' including a clip where the coppers catch a girlie on film about to pee by the side of her car! Also, LA7 (S-Club Seven) where Hannah needs a pee badly. Biased opinions on being AGAINST 24 hour opening! Brian & Bridget successfully surf the web for pee. Praise for some exceptional watersports video suppliers. A fact based article on a Piss Powered car! Pissing on the radio & lack of toilets in the old Victorian days. Some pissingly themed magazine cuttings. In praise of wearing rubber pissy pants. Re-training an irritable bladder. 'The Wet Challenge' - a well written peeing story. Some rather good pissy poetry. A story from a fella who can't piss in a public toilet. Some amusing pee sightings of women pissing in traffic jams. A short story about a toilet voyeur hiding in the cesspit!!! In praise of X-Streams videos. A piss sightings report from a big carnival. Wet websites and video recommendations from P. Kritick. A subscriber's Pee Study and full descriptions of some of the women pissers he's known. More recommendations with addresses for watersports videos. Knicker wetting pictures and some amusing anecdotes on piss y situations with stories of the actual events.
---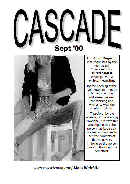 2000 Sept. Magazine (42 Pages) @ £3-00 (Or Your Currency Equivalent) Download Cascade September 2000 ~ Buy & Download to your PC @ £3.00 (Or Your Currency Equivalent)
An observation of a bursting female by a subscriber in a pub. A humorous idea for a mobile Ladies toilet. Some pee fantasy newspaper clippings. Some very good varied pics of wetting women. Some interesting e-mails from women mentioning 'The Priory' pee holding competition. An interesting contribution from a mature subscriber about pee fun during the second world war. A confession from a girl who likes drinking her own wee. A 'Blind Date' confession on TV. A couple of pissy books reviews. A lengthy and detailed review of Wet Set videos. A contribution from Nicola who tells you about her desperate need for the loo. A subscriber's account of wetting arousal. Brian & Bridget's column on Phillipa Forrester & Wet Tele. A voyeur's account of ladies pissing at night in the US. P. Kritick's detailed HighTide watersports video revues. More 'caught short' pee outings from lavatory shy Mrs Woods. Some pissy poetry. A subscriber's pee fantasy with Sue on a tropical beach, pissing & fucking. More interesting knicker wetting letters and stories.
---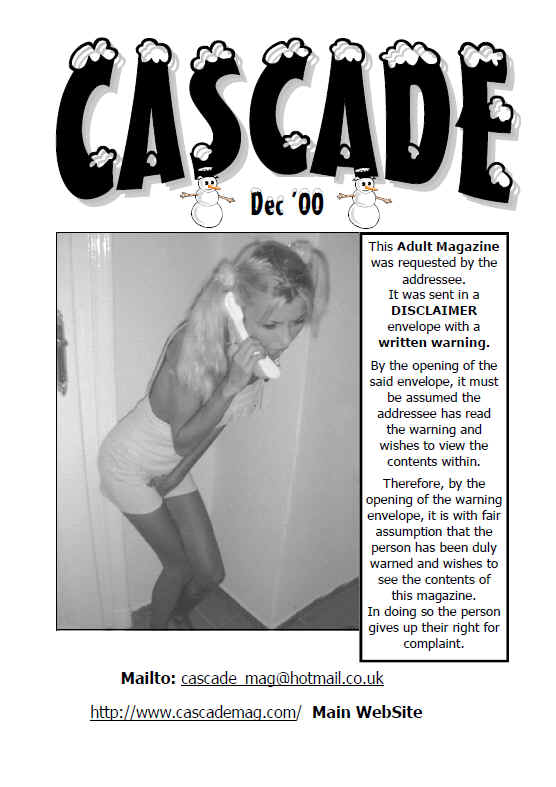 2000 Dec. Magazine (42 Pages) @ £3-00 (Or Your Currency Equivalent)
Download Cascade December 2000 ~ Buy & Download to your PC @ £3.00 (Or Your Currency Equivalent)
Special Xmas edition. A subscriber makes comparisons in watersports publications during the 90s. A report on nerves, anxiety & its effects on the bladder. A bit of Cascade commending & criticism. More pissy poetry and cartoons. A wanky pissy idea for some solo male piss fun. A reader compares Cascade to Wet Set and writes a long & very detailed account of his wetting games with a particular willing woman. A dozen sexy pissy ideas for forfeits at a party. Two of the best watersports drawings we have ever seen. A short, informative and very concise report on wet sex magazines and pissing content in films & on tele. A long story from a female who pushes her bladder to it's limits and the sexual kick it produces. An idea for a device that enables you to stay in bed and piss! An amusing magazine cutting about why women go in the loos in twos. A report about a haunted toilet and an up-date (from March this year) on the mobile Ladies toilet. A mature subscriber voices his life time of pissing with females and groups and how that now he has nothing. A page full of newspaper pee funnies. A voyeuristic subscriber's report on his knack for spotting wet incidents, albeit risky! 'Puss in Boots' Xmas panto becomes 'Piss in Boots'!! A reader tells us of his pissing experiences with his willing wife. A couple get an inspiration for a pissing marathon from a story in March 2000. Mrs Woods is still so lavatory shy, more humorous pissy adventures. An Aussie pisser's wet recollections. Wet Sex versus Knicker Wetting? Reader's watersports pissing letters and contributions, some good drawings. A 'wet quote' from Charlie Dimmock!
---
Vintage Porn Magazines