90s Panties Wetting Magazine. 42 Pages
Back Issues from '93.
Retro Cascade Watersports Pissing & Pantys Wetting Magazine . . .
---
All Cascade's magazines to download are £3.00 and saved in .pdf format and are made to view in Adobe Acrobat 9

---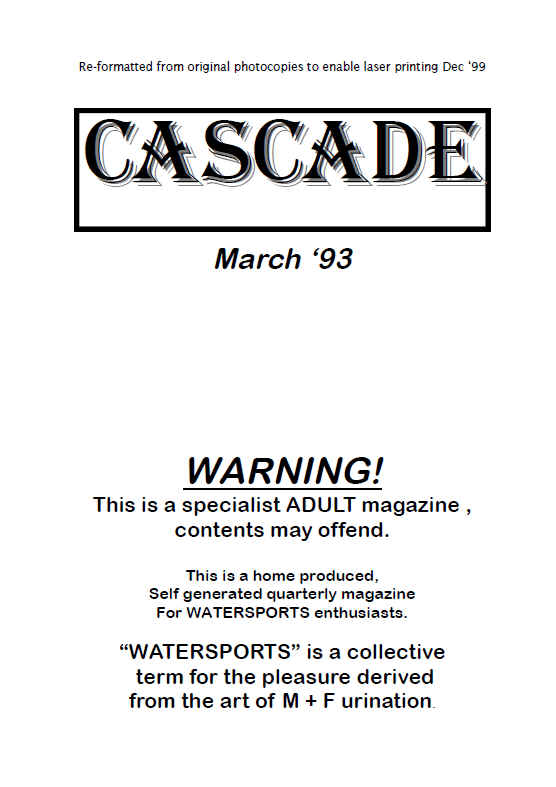 1993 March Magazine (28 Pages) @ £3-00 (Or Your Currency Equivalent)
This Cascade magazine is mostly written material, it was the first one produced after the raid in '92 and we were still under investigation so had to take it a bit steady, although there's a couple of peeing cartoons. Inside there's some very good articles and pissing stories which make up for the lack of pissing pics. A girl gets so turned on by pissing herself and she's joined by her boyfriend later for a mutual pissing climax. A male gets his pissy kicks by cross dressing and pissing in public. A female writes in with praise & criticism for the re-launch issue and tells us her husband isn't interested in her pissing fetish!!! A reader writes in with ideas for Cascade & his detailed peeing experiences with his sexy girlfriend Helen. A woman overworks her bladder so much she can't get out of her car! More subscriber's childhood wetting experiences & memories to bear fruition later in life. A subscriber analyses watersports preferences and refers to pissing in the Victorian and the war years. A reference to Havelok Ellis's works. A boy in school is fascinated and turned on by his teacher and her obvious habit of holding on while holding class. A German subscriber is hooked on ladies wetting and lists a few of his knicker wetting sightings. Carol & Alison go wetting in public just to embarrass people. A recollection from a subscriber who managed to take part in a desperate peeing scene. A male subscriber gets turned on with a desperate pants wetting 16yr old.
---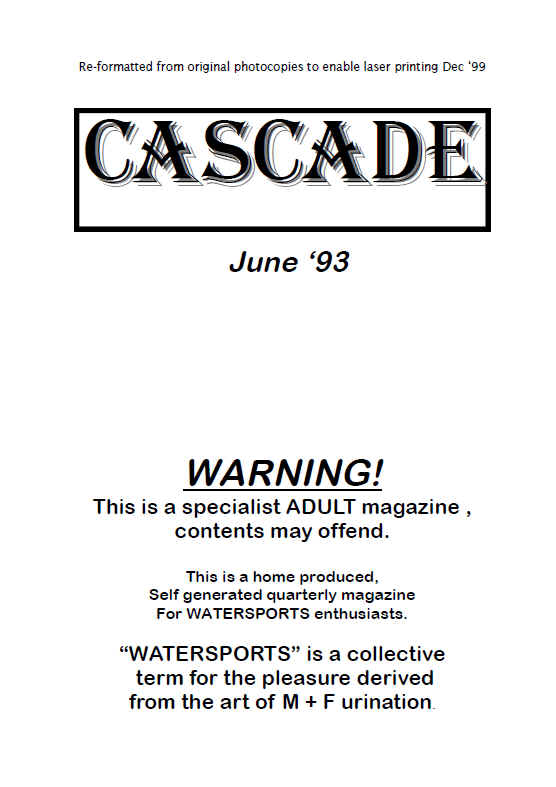 1993 June Magazine (42 Pages) @ £3-00 (Or Your Currency Equivalent)
A girl gets gets bullied at school to the point of wetting herself, then gets turned on by wearing plastic pants. In praise of bed wetting. A subscriber grills his female friend to find out the truth about something he overheard about her wetting her knickers. Some exciting pee sightings. A male subscriber tells us his peeing fantasies and what he actually has in reality. Some ideas and some positions for piss drinking direct from the furry cup. A true story about a mate's wife who was made to hold it and how later he found out that she didn't! An amusing story about a girl who works in a wine tasting shop and is so desperate she has to pee behind the counter into glasses, only to find the customers were trying them out! A 60yr old realises he's not a piss freak after finding Cascade. Using the dog's bowl as a bidet in a motorway hold up! Lisa nearly gets caught - a story of a 16yr old who refuses to grow up and still likes deliberate pants wetting. Richard Burton gets caught short on stage and gases the audience! Some interesting Urine Therapy topics. A subscriber recalls his many visits to hospital regarding his lack of bladder control and the sexy pissy things it led up to. A story about a shy girl who holds on and suffers in silence at her boyfriend's parents, but in the end has to ask for the toilet, but sadly she gets directed to the wrong room! An article copied from fiesta called 'Wet Weekend' - a couple initiate their lasting watersports love affair.
---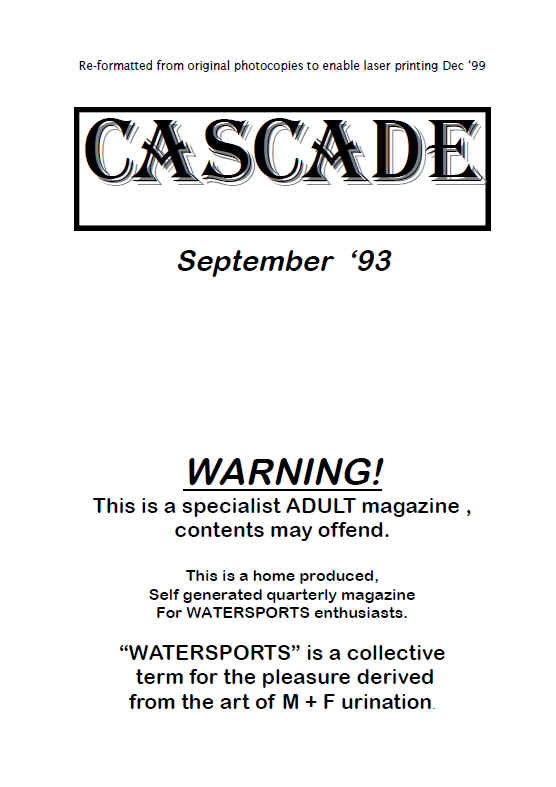 1993 Sept. Magazine (36 Pages) @ £3-00 (Or Your Currency Equivalent)
Some pissy poetry and peeing cartoons. A very interesting fact filled Psycho-Urology Pt2 quoting Havelock Ellis and James Joyce. A subscriber's comments about a previous article by 'Rob' and adds his own interesting comments, he goes on to list some other findings of wet knickers. 'Don't Be Cruel' a very long and sexually detailed story where Mandy finds out about the 'pulling' power of her pee desperation. A girl makes friends with another female on a train who has to wet the train seat - just before other passengers get in the same carriage! A sales girl gets taken short behind the counter and finds her pissy predicament turns her two male work colleagues on. In praise of pee drinking - a thirsty subscriber's detailed account. A letter on pissy paintings by Picasso and one by Thomas Rowlandson called 'Family Laying the Dust' which is re-produced in the issue. A girl is persuaded to watch a watersports video and is inspired and encouraged to try panties wetting and gets hooked!
---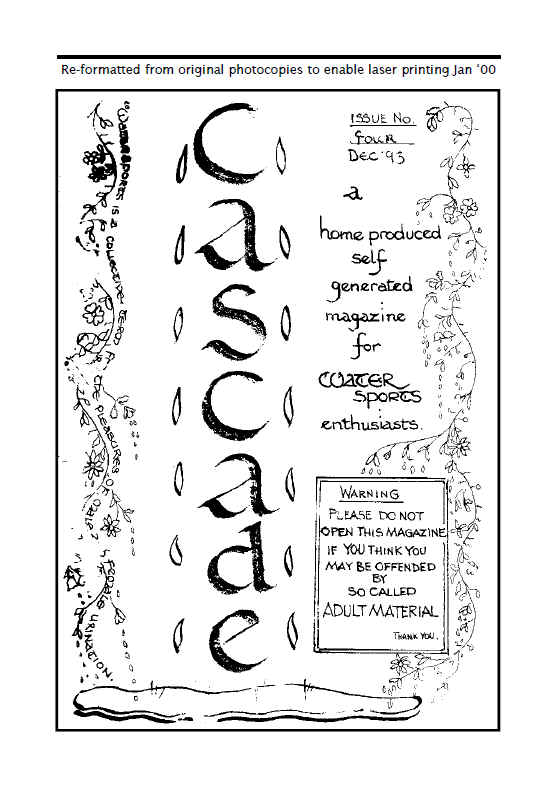 1993 Dec. Magazine (39 Pages) @ £3-00 (Or Your Currency Equivalent)
Alison recalls her schoolgirl pissy pranks and her eventual love of knicker wetting and pee games. Another female wets herself just to enjoy the feeling of her warm piss wet knickers. A story of two girls and their knicker wetting fun antics. A bit more from Wee Willy and his pissy suggestions. Up-date on the Cascade crown court case. Steve & Deb leg it to Spain. It all goes on in Brighton. 'The Wet Coach Journey' - Sharon & her friend have to piss on the coach seats. The Premium rate watersports phone lines survey results. More pissy poetry. A subscriber's wet fantasy of pissing fully clothed. Helen tries to find somewhere to piss at a crowded party. A woman looking for a male pissing partner describes her love of watersports. Some recommended mainstream videos with pissing content. A long knicker wetting story called 'The Hitch Hiker'. The start of the Cascade Contacts section.