Home Shop Menu Pee Stories Pee Sounds

Ms JD Pissing Retro Cascades

Victoria Super Pisser
Retro Wet Pee Stories & Panties Wetting - Retro Cascade Mag.
Back Issues from '99
Wet Pee Stories Magazine. Retro Cascade 90s Vintage Peeing . . .
---
All Cascade's pee stories & panties wetting magazines to download are £3.00 and saved in .pdf format and are made to view in Adobe Acrobat 9

---
Download Cascade Magazines with PayPal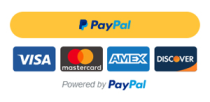 YOU GET A FREE ADULT HUMOUR DOWNLOAD

~ 'NOW THAT'S WHAT I CALL TAKING THE PISS' ~

WITH YOUR ORDER ~ COMPLETELY FREE!
---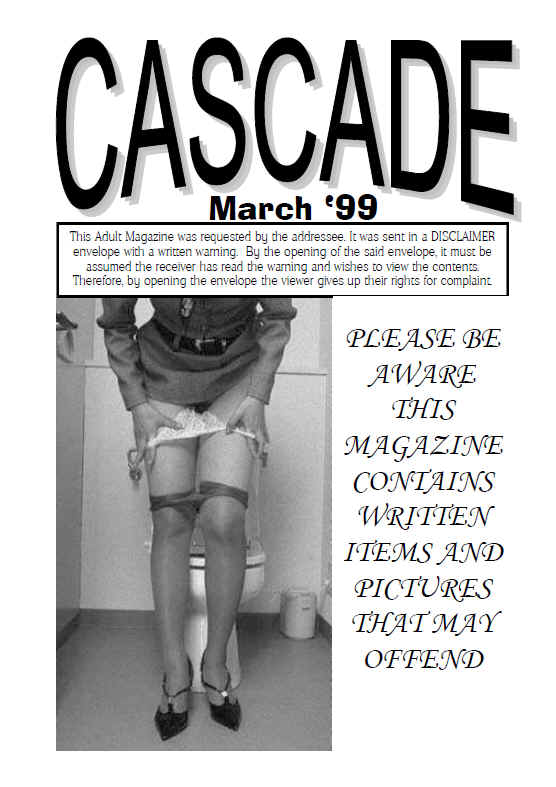 1999 March (42 Pages)
Download to your PC or Smartphone @ £3.00
(Or Your Currency Equivalent)
Are all pee lovers water signs?
A subscriber sneakily hears a beautiful female pee at a garage. A dig at the UK's archaic censorship laws and praise for X-Stream videos IF you can get them!! Another reader was surprised to see her Cascade magazine at all because of last year's problems. A letter from a reader with some good watersports video titles and descriptions along with reliable suppliers and some Wet Tele to boot. Alf gives us a descriptive review of some of X-Streams videos. S & D write a 'thank you' to the Cascade subscribers for their loyalty & support during last year. A Cascade subscriber writes in with a dig at the UK laws and tells us of he and his girlfriend wet their knickers together. A golden showers story taken from 'Hustler' magazine called 'A Puddle of Urine'. Another reader's gob smacked reaction to Cascade's raid. Extract from Viz magazine - a humorous spoof arrest & charge of a Lincolnshire man. A Cascade subscriber witnesses a panties wetting in a queue for the Ladies' loo. A reader asks why there is never any part twos of ladies letters? - how they got on with their ideas for peeing etc? Are all pee lovers water signs? A Pia cartoon. A male does pee d.i.y. as well as seriously damaging his cock. Kevvy & Becky want to try the portable car loo. Aquarius's findings on erect peeing. Carol Vorderman admits to wetting her knickers at school. The continuing pee watching story of Jackie & Alan from December '98. A subscriber suppresses his peeing desires for 40 years! A report of a pee surveillance video on TV's Sally Jesse Raphael's daytime show. Another male subscriber gets hooked on peeing at primary school and tells us the very detailed wetting, watching and listening memories. A guy dresses up in women's undies & clothes, then goes out in public to pee himself and so far, hasn't been caught! A couple get a pissy idea to spice up their sex life from a mag called 'Lesbian Lust'. A US reader spies a lady who'd wet her shorts casually shopping. Aquarius has some solo pee fun with a pee filled condom. A younger subscriber's wetting experiences, his hopes and recollections. Some women's wetting letters from the ladies' section on Cascade's web site. A couple write in explaining how they drink and cook with their pee! A reply to pee newbie Lynda's letter from December '98 with some suggestions and gentle coaxing.

---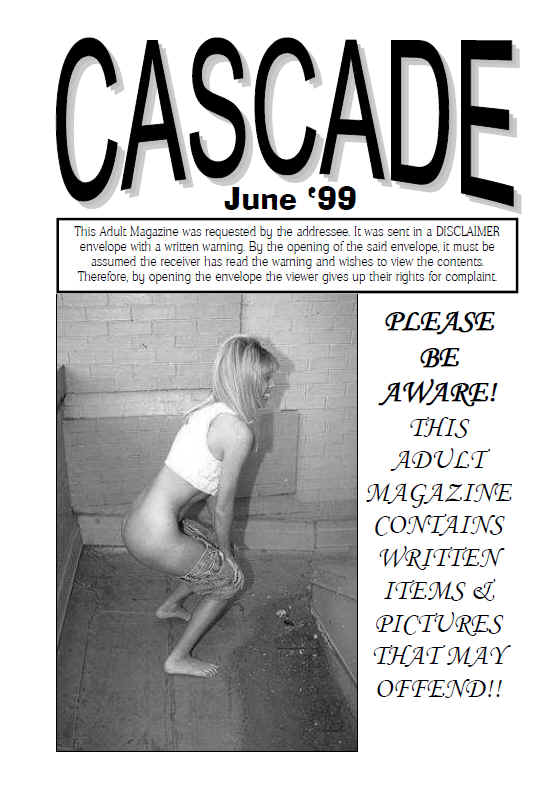 1999 June (48 Pages)
Download to your PC or Smartphone @ £3.00
(Or Your Currency Equivalent)
Some pissy poetry and the Cascade Cryptic Crotchword
Extra pages in this one. Preface opens up with a Cascade magazine fund-raising venture for the court costs. A voyeur report of a woman peeing in a car park and the writer gets wet! Some good panties wetting & public peeing pictures. A contribution from Debbie when she wet her knickers at school. A subscriber's friend chips in with his two penneth about his bashful bladder. A couple's progression from meeting, becoming intimate and on to having wet sex. Two girls have a pee conversation in a car then race to the toilet when they get home, but who gets to the toilet first??!! A couple get a pissy thrill from wearing incontinence knickers. A romantic story of how peeing is enveloped into a loving relationship. A male subscriber tells us of his solo wetting games. Deb witnesses one of her girly friends pee herself. Aquarius sees a student 'holding on' game in the pub. Some pissy poetry and the Cascade Cryptic Crotchword. A girl to act out your wet peeing fantasies for £350 a night???!!!! A subscriber hears a wet conversation between two women who are 'bursting to go' and sees a lady darts player who's 'lavatory shy' actually give in and go to pee. Victoria has no inhibitions about peeing in front of David. Brian & Bridget reveal some of their wet sex life and have a wet twosome pyjama party. The lowdown on a urinal designed for women by Dutch girl Marian Loth, she calls it the Lady P and a cutting from the Evening Standard on the same subject. A female artist Elke Krystofek drinks her own pee on video in the name of art. A note from Tanith who wants to charge you £350 for a piss filled fun? evening. Jackie & Alan's continuing pee story from December '98 - Pt2 'The Pleasures of Peeing'. A mature subscriber finds it hard to find a lady to share a pee. A poem out of the top 100 UK poems by Hugo Williams called 'The Toilet' taken from 'The Guardian' newspaper. A couple desperate to pee in the woods have difficulty getting their pee flow started and come up with sexy ideas to help each other. Some pissy quips from Tori Amos & Tessa Blackstone. E-mail comments from a Cascade Internet survey asking Adult surfers about 'net regulation. Lastly, one more true recollection of a personal peeing story from Deb.

---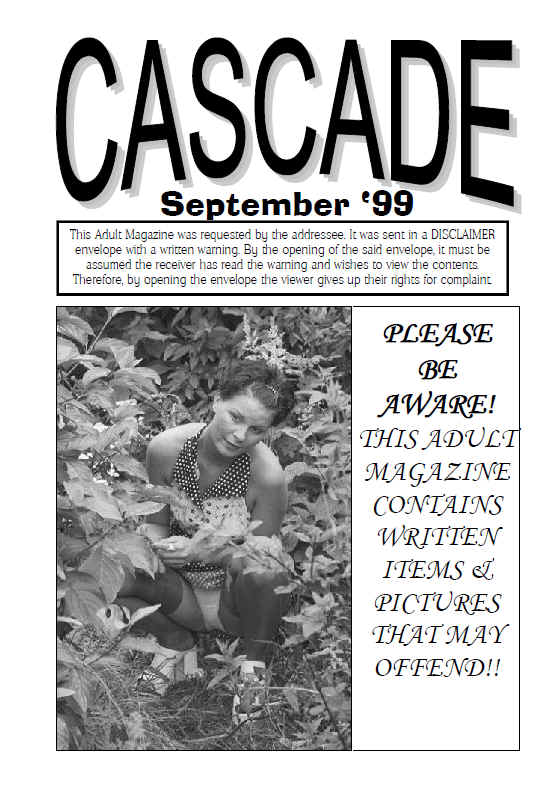 1999 September (42 Pages)
Download to your PC or Smartphone @ £3.00
(Or Your Currency Equivalent)
Extract from 'New Woman' analysing the Lady P female urinal
Preface has the up-date of the Cascade Internet website persecution with the full explanation of the court proceedings. It also cuts the ribbon for the opening of the Cascade Internet shop. A male subscriber's pure joy at receiving his Cascade magazine. A female subscriber doesn't have a coin for the loo and pisses down the wash gully. Extract from 'New Woman' analysing the Lady P female urinal with a picture of it in action and it quotes some 'fors' and 'againsts' together with some public opinion. Story called 'Jennie's Pennies' - a girl goes to stay at an old house with an outside privvy and has to hold her pee, plus a bonus pee story. Wet Tele Text. Extract from FHM magazine called 'I Can't Pee in Public'. A 17yr old boy dares to wet himself on a bus full of high school girls. Some pissy poetry. Couple of good full page panties wetting pics. Lots of praise for David Elson's X-Streams daring public peeing videos. A subscriber persuades his wife to write one of her bursting to pee experiences. Wet Tele with a 'Shooting Gallery' excerpt and Michaela Strachan stuck in a river needing a pee. Andy the Cascade plumber tells us some more of his mucky toilet stories. A couple more cuttings from FHM magazine - fishing worms in a man's bladder and when a drunk falls over and bursts his! A garden panties wetting male subscriber's story. More girlie outdoor peeing pictures. How a couple initiated watersports into their love making. A US subscriber describes his public wetting and shows us a picture of the end result! A pants wetting letter from 'Maxine' - a Wet T.V. Cutting from 'The Telegraph' describing two ultimate pees by millionaires! A story of Connie, a rebellious choir girl who peed as she sang. A subscriber's golden showers success story thanks to Cascade magazine. A mature subscriber recalls how taboo and dirty the subject of peeing was when he was young. A female subscriber describes in detail of her sexual pissy pleasure on getting her Cascade magazine 4 times a year! A peeing glamour girl tells us of a pissy picture session. The Cryptic Crotchword answers. A long peeing story in the form of a poem called 'Homeward Bound'.

---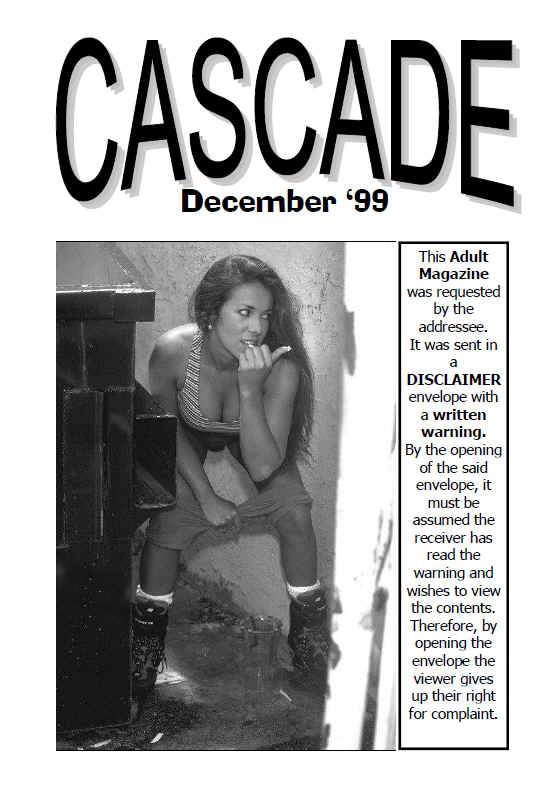 1999 December (42 Pages)
Download to your PC or Smartphone @ £3.00
(Or Your Currency Equivalent)
A pissy quote from Sharleen Spiteri (Texas)
The result of the Cascade Court Case. A young typist hurries back late from a few lagers at dinner time to her dominant boss who ridicules and punishes her, but she gets her revenge - good pissy story. A female design engineer develops a 'Relief' bag for bursting to pee females. Kate Winslet tries out a pee scene for 'Holy Smoke'. The Potty Golf loo mat! Brian & Bridget do the Wet Tele. Penthouse magazine announce they are running 'The Great American Peeing Contest'. A subscriber tells us of his peeing fantasy in detail. The Cascade postman wets his fancy knickers on his rounds. A female and two male readers write in with their versions of their perfect pee. A peeing voyeur describes some of his sightings. Another 'perfect pee' fantasy from a male subscriber featuring his female boss. An American fella sues San Diego for having to use a women's restroom - and he wins!! The continuing story of Alan & Jackie the pee lovers. The Cascade magazine computer buff P. Kritick analyses pee websites and peeing videos and explains the 'techie' side. Some more pissy poetry. A good young blonde male hunk peeing his jeans. A bed wetting story by two girls. 'The Knowledge of Pee' by Brian & Bridget. In praise of X-Streams videos. A couple describe their wetting & peeing games. Lots of women's detailed reactions on how to pee standing from restrooms.com The long summer of '76 and the endless drinking produced lots of pee fun for Kate & Roy. Alf describes the Fiona Cooper wet sex videos that are available. A list of peeing articles in mainstream mags., a pissy quote from Sharleen Spiteri (Texas) and a cash machine pee sighting. A subscriber is lucky enough to have three pee loving women, a mother & two teenage daughters move in right next door!

---
Go to '91 Go to '92 Go to '93

Go to '95 Go to '96 Go to '97

Go to '99 Go to '00 Go to '01

For viewing in Acrobat Reader

Click here for MORE DOWNLOADS ON SPECIAL OFFER