Retro Pissing and Wetting Magazine.
Back Issues from 1995.
Cascade 90s Watersports Pissing & Pantys Wetting Magazine . . .
---
All Cascade's magazines to download are £3.00 and saved in .pdf format and are made to view in Adobe Acrobat 9

---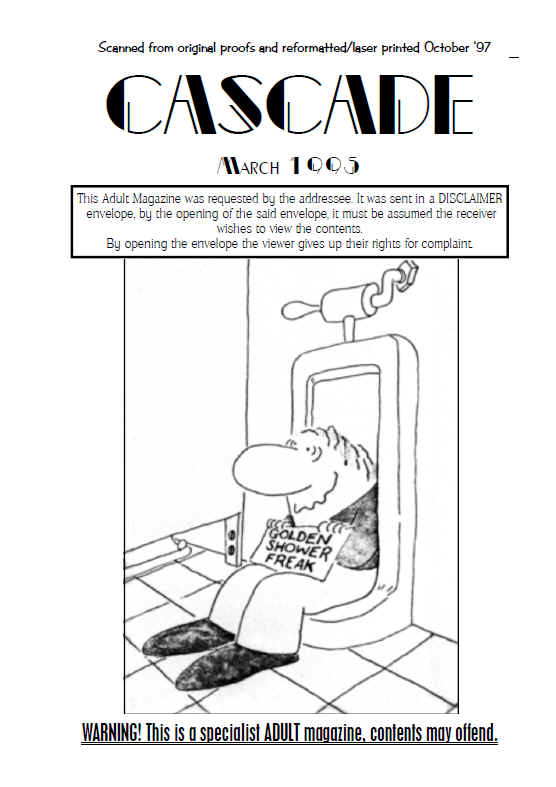 March 1995 Magazine (44 Pages) @ £3-00 (Or Your Currency Equivalent)
A subscriber witnesses a young lady wetting herself in a bar. The 'Golden Showers' poem about Clariss. A couple on a very sexy pissy picnic. A male subscriber likes to keep his girlfriend waiting .... and waiting!! A female contributes with a list of Wet Tele she's seen. The Victorian Cape & Barrel man. The peeing scene in Phsycho 2. A pee clip from the Big Issue magazine. A letter to Wet Set where a fella sees a lady who'd wet herself, but was still doing her shopping dressed in wet jeans! A letter from a girl who's into pissing but scared of broaching the subject with boyfriends. A study on male & female bladder sizes & pee quantities. A gay girl is relieved to find Cascade and realise that she's not on her own with her love of peeing. Longfellow's original poem Hiawatha uncut. An interesting letter explaining about the effects that women's keep fit exercises has on the female bladder. The Train Journey: a man meets a girl on Waterloo station and share drinks, she doesn't piss before the journey - oh oh! A subscriber persuades his wife to give him a golden shower. The Cascade piss fun Contacts. Roadside Rivers, loads of really good sexy pee sightings. Wet Tele with Neighbours & Prisoner Cell Block H. A detailed report of a couple's sexy pee fun. A query asking about bladder power & pee holding times.
---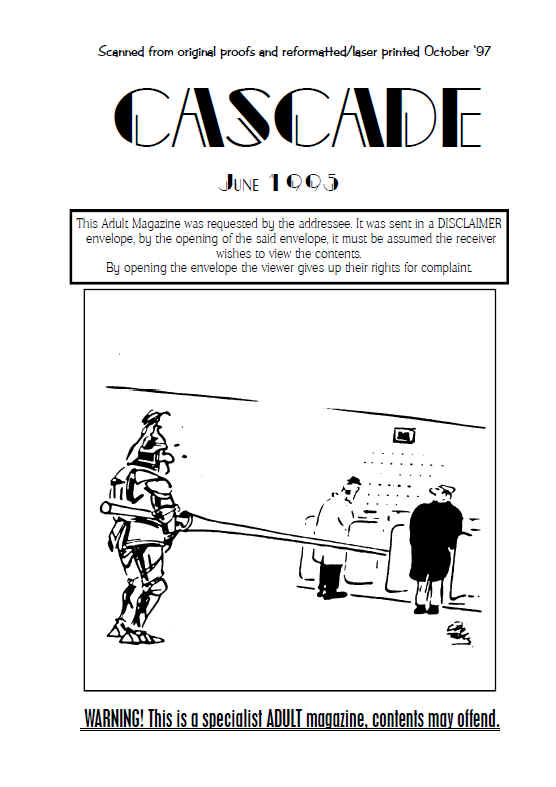 June 1995 Magazine (44 Pages) @ £3-00 (Or Your Currency Equivalent)
Comment on the film D.O.A. with Meg Ryan. S & D take over editing & compiling Cascade. Helpful practical advice to encourage your partner into watersports. A subscriber writes in with so many pissing questions for the girls. Prosecution of Cascade - the fines total. A humorous Penis Envy rhyme. An Aussie girls' detailed confession of how she loves to wet her knickers. More Wet Tele and mainstream films with pissing content. A very interesting contribution from a mature subscriber who goes back to his schooldays and then foreword through his life recollecting all his pissing memories. A story about Sue who gets trapped full of piss on a coach. Quotes from a book on bladder size & treatment: 'Living with Fear' (Understanding and Coping with Anxiety) by Isaac M. Marks M.D. Facts on public conveniences. Amusing pissy scene from a Burt Reynolds film. A female subscriber tells us about the replies she got to a watersports advert. In praise of Cascade & some comparisons from way back. Safe diuretics and authors Stephen King & Wilbur Smith include pissing in their books. Singapore girls on a long bladder bursting coach trip. Ladies different terms for the names of the toilet and a piss. A driver pulls in for a piss and is confronted with a beautiful pissing female! A mature female subscriber recalls her knicker wetting experiences from years back. The adventures of Mrs Woods, the lady lavatory shy. A happily married couple share their 35 years of watersports activities with Cascade readers.
---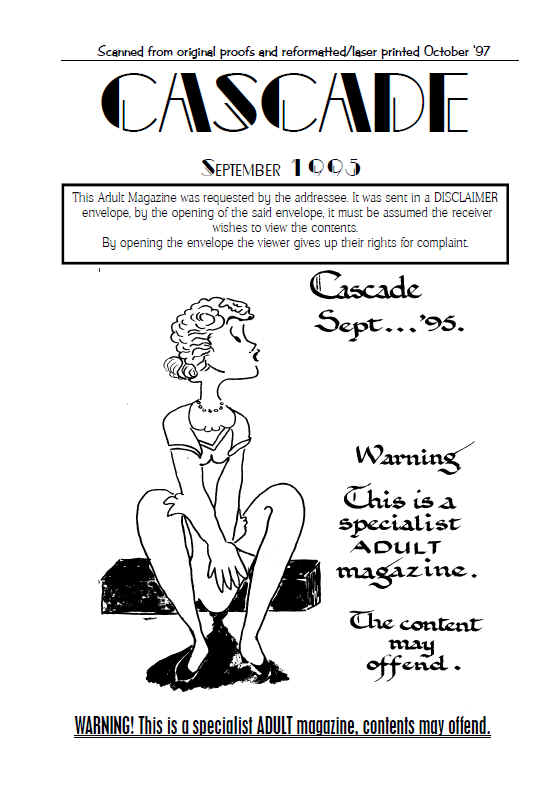 Sept. 1995 Magazine (42 Pages) @ £3-00 (Or Your Currency Equivalent)
Splashing thru' the 70s - interesting contribution from a male subscriber pissing with his girlfriend. Christmas issue to get you over the pissy festive period. 3 girls and 3 fellas try a tipsy game of Wet Monopoly! A man is inspired to pissing by the cover of Brian Eno's '73 album 'Her Come the Warm Jets', by artist Helen Chadwick's 'Piss Flowers' creation and by female photographer Sam Taylor-Wood's pissy pictures. A female subscriber explains the pleasure & pain of holding on to her piss. The Cascade Doctor helps a couple with their pissing problems and analyses the 'Bashful Bladder' theory and details bladder retention. Pissy bits from the Daily Sport. A man out walking spies some sexy pee sightings. Story 'Liquid Assets' taken from Club International. A male subscriber stretches his small bladder successfully. Carol & Chloe pee their pants for charity at Xmas. The continuing wet sex story with Janet & John, the 'Water Lovers' pt2. A report on Channel 4's interview with a girl band who want to do something outrageous to promote themselves, they have a photo of another girl band peeing into the audience!! That's the way to do it!!
---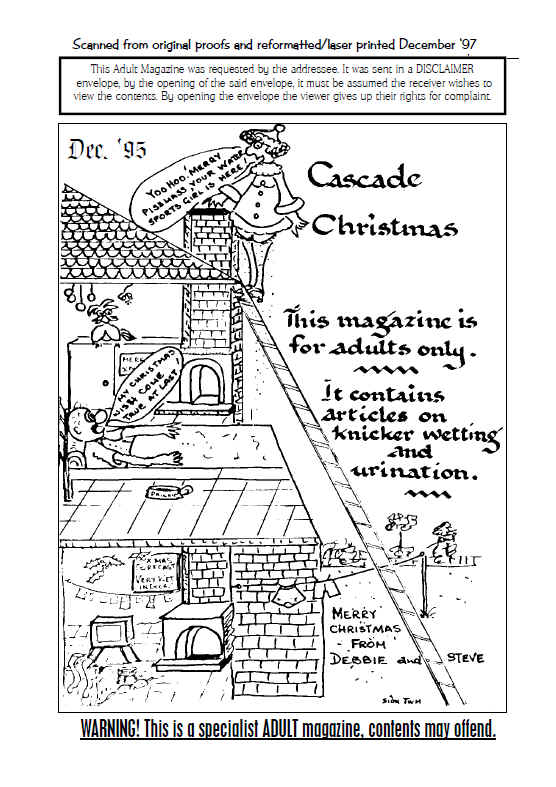 Dec.1995 Magazine (42 Pages) @ £3-00 (Or Your Currency Equivalent)
An article called Splashing Through the 70s Pt1 - A subscriber tells us about his piss filled past from the 70s starting when he was only 16. 3 girls and 3 fellas try a game of Wet Monopoly. 'Piss Artists' is a piece about Brian Eno's album cover 'Here Come the Warm Jets' and Helen Chadwick's 'Piss Flowers' and wet erotic photography by a lady called Sam Taylor-Wood. A woman subscriber explains how she loves hanging on to her piss until she's bursting plus some! A Doctor's reply to a couple's queries about their pissing games. Another 'ask the Doctor' letter where a fella is suffering from a bashful bladder and voluntary retention. A couple of girlie pissy snippets from the Daily Sport. A fella out walking his dog witnesses a mother & daughter desperate for a piss. A cutting from Club International magazine called 'Liquid Assets' where a woman, when she was a schoolgirl, wet her knickers in class & enjoyed the thrill. A male subscriber tried stretching his bladder beyond limits. Carol & Chloe go knicker wetting for charity on Xmas Eve. An article from Janet & John called 'Water Lovers' Pt2 which is a couple's loving relationship and their mutual love of pissing. A bit from S & D about a 5 piece girly band called Treacle they saw on tele being interviewed, wanting to do something outrageous, like pee into their audience! A new subscriber explains the very first time he was first turned on by his girlfriend's peeing. A woman writes in and tells us of how she enjoys wetting herself and how it's perked up her love life. A letter from a woman who likes to dress up and go wetting on her own. Brilliant! A wife finds Cascade in her husband's drawer and she hadn't a clue that pissing turned him on, so she decides to pee for him - then write to us so he can read her loving surprise peeing story! Another peeing story from 'Club International' magazine about a woman in the ATS in the war and peeing her bloomers. A copy of a letter written in to 'Search Magazine' about a Urolagnia Fantasy. Plus the usual pants wetting pictures and drawings.
---